Top 5 Best Action Cameras in USA 2021
(Image credit: unsplash)
Best Action Cameras in USA 2021
Top 5 Best Action Cameras in USA 2021. Are you a travel bug and love filming your travel experience? Do you want to snap up a new gear but not sure of the best one to lay your hands on? In this article, we are going to show you the 5-best action cameras making a buzz in the vlogging world that you must check out before you add one to your cart.
The gear depends on what you want to use the camera for, but to make sure to use it in versatile ways and be satisfied with your purchase, you'll want to consider every point we bring up in this article.
Best Features Of Top 5 Best Action Cameras in USA 2021: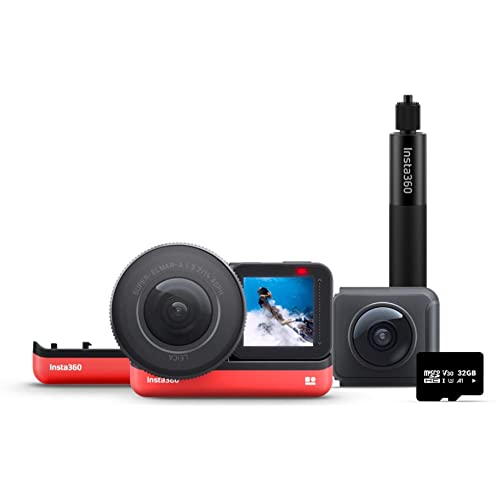 Insta360 ONE R Ultimate edition is totally insane! It doesn't only look good on screen but also scores outstanding in reality. Whether you are about to film cycling experience in a beautiful mountain pass or hiking on a steep and perilous road – Insta360 One R Expert Edition is a serious contender that goes pretty well in every situation.
Features:
Insta360 comes with an ultimate kit that includes a 32GB Memory Card, Battery Bundle, Selfie Stick, Lens Cap, Mounting Bracket with two interchangeable camera options, wide-angle 5.3K 1-Inch Sensor Action Camera, and 5.7K 360 Camera.
Insta360 is combined with Leica and New Auto Exposure Bracketing to deliver premium image quality. The legendary Leica optical design, high-quality 1-inch sensor, plus striking dynamic range make it all in a rugged and compact body.
You can film your fly from a 360-degree angle with high-class footage.
ONE R's 1-inch sensor is a pretty pro in shooting high-end footage in low-light, indoor, and late night. The detail and color Insta360 brings in even shadow will amaze you.
Additionally, the gear comes with FlowState gimbal-like image stabilization (without the gimbal) that delivers clear and steady footage in even low-light.
And the staggering part is, the dynamic gear comes with an IPX8 waterproof feature up to 5m (16.4ft). Now you can use it during swimming or water activities.
This 360-degree modular camera itself is a unique offering; you only have to make your own combo by swapping any lense, sensor, or battery of your choice.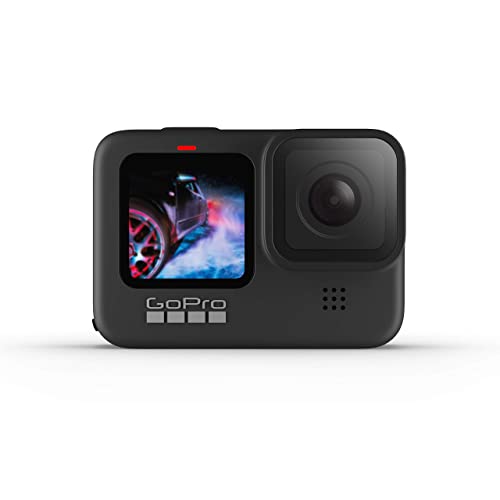 GoPro Hero 9 is a hard-core flagship action gear in the world of action cameras and modular that is considerably hard to beat. GoPro's latest attempt is an ultimate display for vloggers and photo buzz to grab high-resolution photos, selfies, and videos.
Features:
GoPro's new Hero 9 black launched as a rugged and waterproof action camera trait with a front LCD and Touch Rear Screens.
The 5K ultra HD video and new Max Lens Mod of Hero 9 black shoot stunning videos whether you prefer it zoom in or wide.
It captures crisp, pro-quality, clear shots with the 20MP photo lense, processes, and delivers Super-photos.
GoPro Hero9 Black's dazzling front display comes with excellent stabilization, a unique yet more spacious rear touch screen with touch zoom on, and intuitive camera control making it easy to frame.
You can now record live stream in 1080p with HyperSmooth advanced stabilization and experience ultra-smooth videos.
While trekking or hiking, you can record mesmerizing time-lapse scenes as HERO9 Black provides TimeWarp 3.0.
All the features of HERO9 Black prove it a worth pricey. Do not wait; give it a go with GoPro!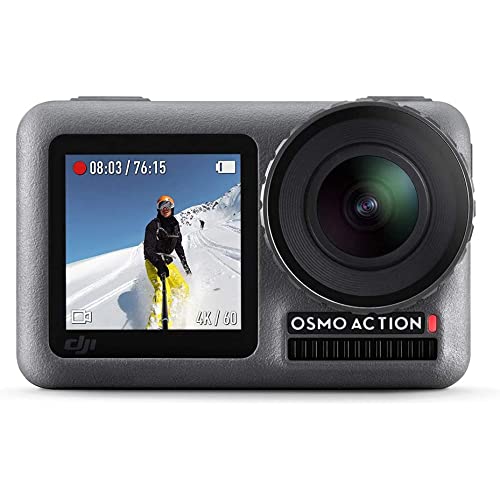 DJI is sought-after for its gimbals, drones, and cameras wedged onto gimbals. But its Osmo Action pack is a real gem; trust us, guys! This action-packed gear has better key areas to beat any action camera with an impressive number.
DJI Osmo has a 12MP Digital Camera jammed with 4K resolution, excellent image stabilization to deliver premium quality images plus videos.
Most importantly, it is designed with 2 vivid, crystal-clear, hyper-responsive displays, compatible with underwater shoots up to 36ft, which frame it ideal for vlogging and filming.
It enables you to capture epic movements with jaw-dropping clarity and detail using 8x slow motion, plus terrific time-lapse.
Rather than subtle, DJI attempt to craft its Osmo Action series with striking design and feature-set to deliver the photo enthusiast a bundle of premium offerings.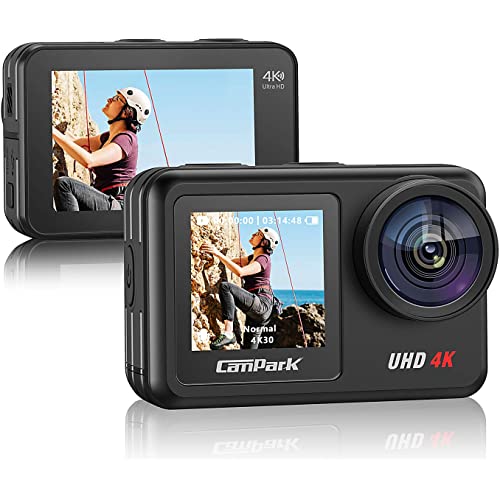 Campark V40 Action Camera presents a box of impressive features that anyone with a photo knack would love. Let's discover what Campark V40 has to offer.
Features:
Let us highlight the exciting feature of Campark V40, which is its V40 4K/30FPS WiFi with 4k Ultra HD action camera and EIS Remote Control Sports Camera. This device is compatible to capture vivid, crystal clear, and lustrous footage for your adventures moments.
Compiled with Electronic image stabilization (EIS) and a 6-axis gyroscope, this model can detect motion change and automatically frames steady photos.
The innovative dual-color touch screen presents an excellent recording experience for videos and delivers extremely vivid pictures, selfies.
Now dive up to 40m underwater with Campark V40 Action Camera, as has the IPX7 water-resistant body. The hydrophobic coating on the body can also seal your gadget from rain, snow, and water splash.
So, now, say yes to water sports and no to worry!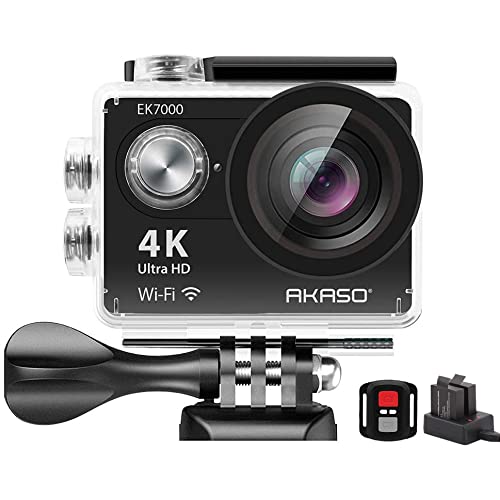 Another flabbergasting action camera that you may like is the AKASO EK7000 4K WiFi Sports Action model, which in general professional personnel prefer. It's a pure alternative to GoPro at a very competitive price range. Although this model doesn't have the same bells and whistles as GoPro, it's a surprisingly good-to-go action camera.
Feature:
From the camera design to packaging material, all make it look almost like GoPro, or better say, EK7000 can knockoff GoPro at this price range.
This action pack has 12MP 170 degrees wide-angle, 4K video–check, burst mode, time-lapse, built-in WIFI-check, wireless remote control sports camera, ultra HD waterproof DV camcorder, and so on.
It can record smooth videos and photos 100 Feet underwater and also can seize indoor-outdoor moving objects.
The box comes with 2-rechargeable 1050mAh batteries with up to 90 minutes of battery life.
We hope our review will help you choose the best out of the best within your price range. So, you can take off your wings and spring stepping towards your new Trouvaillevlogging journey. Top 5 Best Action Cameras in USA 2021.
---
Best Action Cameras On Amazon in 2021